First off: English is not my main language, so please forgive any mistakes. But I thought that most of my readers understand English and not many of my gamer friends can read Dutch. So my gaming blogs are going to be in English.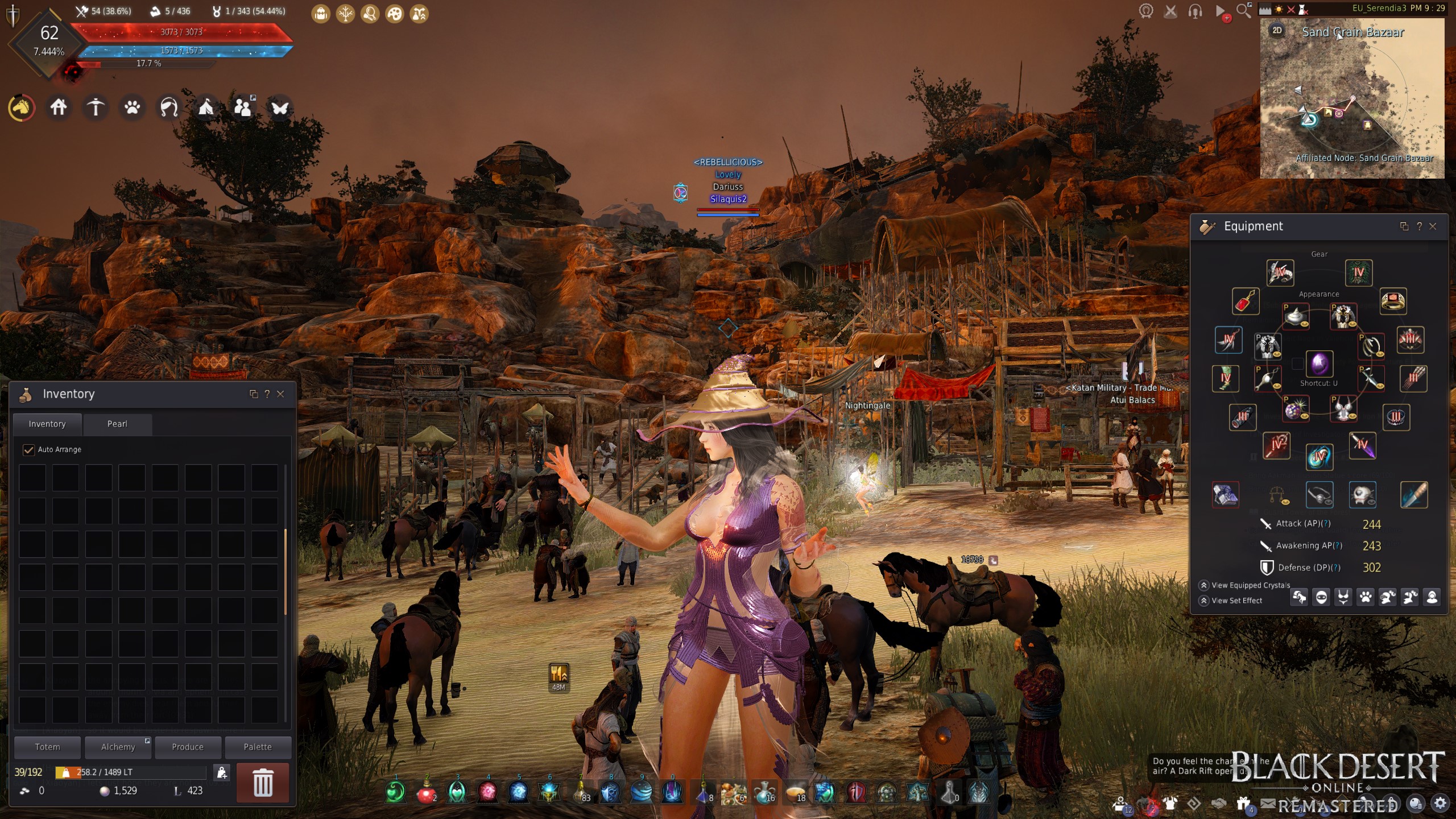 I have seen a huge evolution in my gaming this last year. Where I started the game: Black Desert Online 2 years ago, my first year was spent mostly on fishing and cooking. Where I really enjoyed that, it gave me little progression in my character (a ranger) and I felt I was missing something.
So about a year ago I made myself a grinding character, my Witch. Since then I really made a lot of progression. I like grinding and my witch grew stronger and stronger. Now she is level 62 with 244AP and 302DP. That means she is ready for battle, but still has some growing up to do. Working on that one, but pen weapons cost a lot, so saving up at the moment to buy my first pen boss gear weapon. (And hoping I have the mental restriction not to buy a dreamhorse along the way and blow my money on that.)
And I do like grinding, but only 2 hours a day. It feels tedious very quick and I feel my brain slowly melting when I grind longer. I usually start a guild mission so I have a goal. Most of the times it is kill 4500 mobs and then I can see that number go down on my screen. As long as I don't reach zero, I need to keep killing. So if I can do two of those, my grinding time is well spent.

I see other players grind for 8 or 12 hours a day. For one: where do they find the time to do that? And second: I would go insane. Yes, yes, I know: even more insane than I already am.
These last months I was enjoying node wars. Although I am in a lifeskilling guild and we don't PVP a lot, we wanted to give this a try. I learned that node wars are fun. Mostly because it brings our guild together and we have a lot of laughs. Winning is not yet our strongest side. But we are learning the ropes.
Yesterday we had a PVP training planned and for the very first time I attended. First couple of rounds where: devastating. I think our team got wiped out every time in a couple of seconds. I guess that is why I need the training. But as the evening progressed, so did I. I learned how to buff my team, I learned which healing spells go quick and which take a little more time to cast. And I learned how to rush in, do a lot of damage and teleport out of the battle and keep me alive.
Now honestly, there was another big mistake our team made the first couple of rounds. They all decided I had to lead our team. Me, team leader: big mistake. I am a NOOB in PVP and I really got a lot to learn. How am I any leader in this? As soon as I said: 'we need another team leader' things started to go better.
I like the vote of confidence from my guild that they trust me enough to lead them, but I am not there yet. It will cost me some more training evenings. I'll get there, just give me the time to learn the ropes.
Maybe the biggest surprise of the night: my son is really good in PVP. I always dismissed him as an average player because he doesn't have the concentration to go out and grind for an hour. Or I just said: he is young and still needs to learn a lot. My mistake as it turns out. In PVP he excels and even kicks my ass. I really need to watch out for him. If he can level his character and get it better gear, he can stand with the best of them. I am really proud of him.